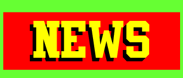 Foot + Shooting = Super Streaker !

Surgissez nu en plein match de foot, et pulvérisez le contenu du stade en un temps record, à l'aide de votre pistolaser ! Experimentez aussi l'efficacité des armes trouvées sur place comme la canette de bière ou la trompète de supporter. Vous pourrez même choisir vos équipes préférées.

Super Streaker est un pur shooting 3D à la 3ème personne, au gameplay addictif et jouissif.

Super Streaker, et le mondial devient fun !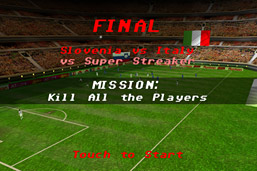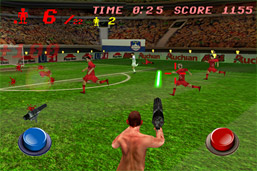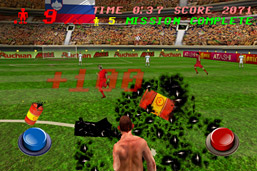 Choose your weapon with the blue button and fire with the red button !! Great ! I've killed a player with the oil barrel !
1
Suica
54,809
2
iPad
51,767
3
iPad
35,552
4
iPad
32,918
5
Jason Gunn Lee's TOUCH
31,321
6
iPad
29,502
7
iPhone von rene
27,854
8
iPad
26,496
9
yudai
23,617
10
yudai
23,240

ALL

TODAY

THIS WEEK

For real fans! More about Super Streaker here

E-mail us directly for any question or comment. To report a bug, please explain your bug and describe device and OS version.
| | |
| --- | --- |
| | Also check out 1024 game a simplier version of 2048. |