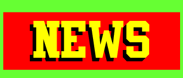 Soccer + Shooting = Super Streaker !

Run naked through a soccer stadium, and destroy all the 22 players within a record time using your Super laser gun! Pick up other weapons such as beer bottles or a fans blow horn. Choose your favorite teams and enjoy !

Super Streaker is a pure third person 3D shooting game, with an addictive and exciting gameplay.

Super Streaker. Now the World Cup will be really fun.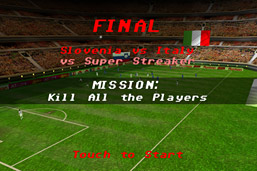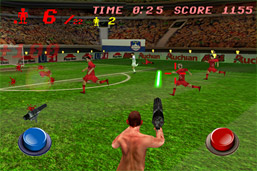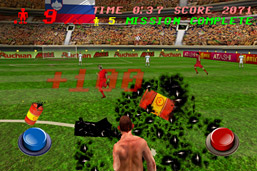 Choose your weapon with the blue button and fire with the red button !! Great ! I've killed a player with the oil barrel !
1
Suica
54,809
2
iPad
51,767
3
Jason Gunn Lee's TOUCH
31,321
4
iPhone von rene
27,854
5
iPad
26,496
6
yudai
23,617
7
yudai
23,240
8
iPad
23,151
9
Tokomakoo
23,026
10
Joe Alien
22,752

ALL

TODAY

THIS WEEK

For real fans! More about Super Streaker here

E-mail us directly for any question or comment. To report a bug, please explain your bug and describe device and OS version.
| | |
| --- | --- |
| | Also check out 1024 game a simplier version of 2048. |